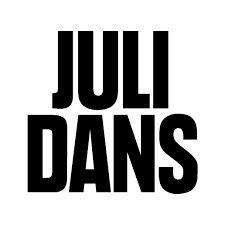 In cooperation with JULIDANS FESTIVAL:
Ann Van de Broek will be performing on 7 & 8 July, for more info and tickets see HERE
This Masterclass is a longer lesson than usual, it lasts 2 hours!!
Ann Van den Broek (Antwerp, 1970) started dancing at an expensive amateur school when she was eleven. In 1988 she started her dance training in Rotterdam at the Rotterdam Dance Academy. She then danced with Elisa Monte Co., among others. (NY, 1990), Dansgroep Krisztina de Châtel (Amsterdam, 1991-1998), Galili Dance (Groningen, 1998) and Charleroi/Danses (Charleroi,1998-2000).
Since 2000, Van den Broek has been working on her own choreographies and for this purpose founded the dance company WArd/waRD in Antwerp. In addition, Ann Van den Broek created choreographies for various dance schools in Flanders and the Netherlands. She is also active as a guest teacher of contemporary dance.
When?
Thursday, July 7th
11:15-13:15  (2 HOURS !!!)
Where?
Studio 1, Henny Jurriëns Studio
Price:
Normal  Single Class /  Class Card Price  
About the Masterclass for professional dancers:
The workshop of WArd/waRD dancer Nik Rajšek and choreographer Ann Van den Broek focuses on the work and movement language of the Flemish choreographer. A language that can be described as dynamic, radical and uncompromising. A dance form that translates emotions and intentions into movement and that greatly exceeds the boundary between dance and performance. During the workshop you'll work from the choreography of Joy Enjoy Joy with accompanying music. You'll learn about the specific dance style and methodology with a focus on rhythmic variants, repetition, analyzing movement and its intention.
This masterclass is part of the Springplank program but open to all prof-level dancers. Participants of Springplank may join this masterclass for free. The program is open to last-year students and alumni (up to 3 years) from dance academies (HBO/MBO) in the city of Amsterdam. Want to join Springplank? Send us an email at springplank@hjs.amsterdam with your cv, diploma, and motivational letter and we'll get in touch with you! More info: https://hjs.amsterdam/springplank/